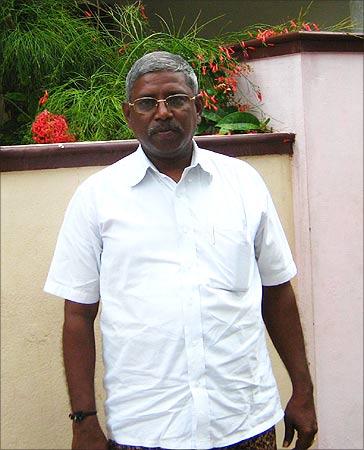 With elections to the 15th Lok Sabha just weeks away, rediff.com's reporters speak to voters across the country to find out what's on their mind.
Murugersa Pandian is a grass root politician at the village level. He has been a ward member, councilor, vice president and now is the de facto president of the Nalumavadi village panchayat in Tuticorin district,  Tamil Nadu. His wife, Indra is supposed to be the president but that's because the government reserved this constituency for women.
Pandian is a farmer and also rents out equipment for marriages and temple functions. He is 50-years old and has been involved with the village panchayat for 20 years.
He is sure that the ruling party both at the Center and the state will lose in the ensuing Parliamentary elections. The reason he gives for the United Progressive alliance to loose is the extraordinary price rise and shortage of diesel."People learnt to cope with price rise, but they could not cope with diesel shortage, that really got them upset" he said.
For the state government he feels that the unannounced power cuts was enough reason to loose the elections. "We have two hours scheduled power cut and five other any time cuts. They give stupid excuses like fuse gone, tree fell down and water logging, no one believes them. 
"Human chains, rallies and collections for Sri Lankan Tamils will not  win an election. Nor will rice at Rs.1/- a kilo, or free TV sets".
About permutation combination he said, "No party can form a Government  on its own. Both the Congress and the Bharatiya Janata Party will need allies in every state. In Tamil Nadu the Congress will go with the Dravida Munnetra Kazhagam and the BJP  will form an alliance with two actors and one Schedule Caste party".
Pandian felt that the Mayawati-Communist alliance was a non starter and the third front would not materialize.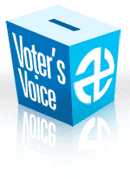 According to him "Manmohan Singh is the best man to manage a  coalition. The 60,000 crores writing off of farmers loans would weigh  strongly in his favor".
"L.K. Advani maybe a good administrator but that is lost in his image. His image is of a fundamentalist and that doesn't make a good prime minister. Vajpayee's image was bigger than the BJP". He was also critical of lunatic elements like Muthalik and Varun Gandhi. "Varun Gandhi is a blot on the Gandhi family, they are lucky he chose the BJP imagine the damage he could have caused in the Congress".
"Among the youth Rahul Gandhi will make the best prime minister. He is good and like his father Rajeev he relates well with the people.
"Issues currently facing the people are price rise, the sinking global economy, power shortage in Tamil Nadu, and diesel shortage all over the country. Petrol prices must come down, they are still high in spite of global falling prices. The price of petrol determines the price of all other goods, because of transportation costs".
And his final words were, "You cannot win an election in this country without money, that is why politicians are corrupt and corruption a part of our lives".
Text and Photograph: A Ganesh Nadar