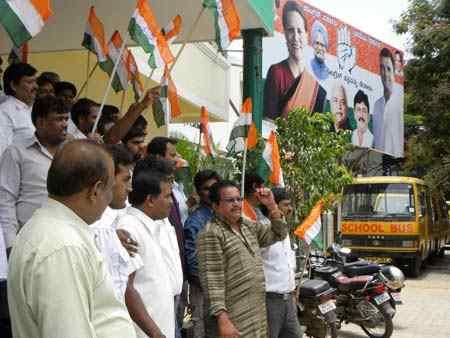 The Congress-led United Progressive Alliance has emerged as the clear winner in the Lok Sabha elections.
Rediff.com spoke to Subhash Agarwal, Congress general secretary, at the party's office in Bangalore.
"It feels good that the Congress has once again emerged as the leader at the national level. Our government is in the right hands once again. The government will be stable and we don't have to worry about seeking the majority. The previous term between 2004 and 2009 was a great period of governance by the Congress. This term will also be equally eventful. We have full confidence in Manmohanji. He will continue governing the country, which will help enhance our economy. There is no confusion this time; it's a clear cut result. Congress is the winner," he said.
The BJP office in Bangalore also witnessed celebrations by supporters after the party fared well in Karnataka.
Image: Congress workers celebrate in Bangalore on Saturday | Photograph: Dominic Xavier