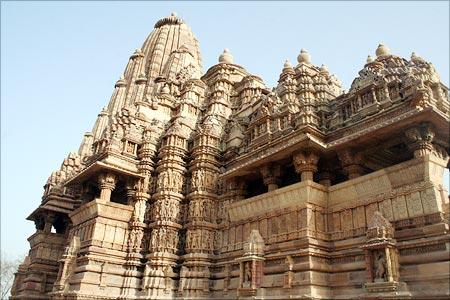 A Ganesh Nadar and photographer Uday Kuckian check out the electoral contest in the famed temple town of Khajuraho.
Khajuraho is known for its magnificent temples around the world. In 100 years, 85 temples were built by the Chandela dynasty in the 10th and 11th centuries AD. Sadly, only 22 temples have survived the ravages of mankind and time.
It is a world heritage site and thus political activity here is only door to door canvassing. Posters, banners, flags, loudspeakers, public meeting and rallies are all banned. There is a stadium where all political meetings are held.
Local residents recall when Atal Bihari Vajpayee was prime minister he had addressed a huge meeting here. The fiery sanyasin, former Madhya Pradesh chief minister and now BJP rebel Uma Bharti had made this constituency her own in her political prime. It helped that her native village fell in this constituency. With delimitation, her village is no longer a part of this constituency.
Raja Pateria, a former minister in the Digvijay Singh cabinet, is the Congress candidate. Jeetendra Singh Bundela, a former MLA, is the BJP candidate. The dark horse is Bahujan Samaj Party candidate Sevalalji Patel. His USP is that he belongs to the Kurmi caste and the Kurmis number 130,000. He will definitely get 50 percent of these votes, local pundits believe.
Even the BJP takes the BSP seriously. They have brought in Shankar Pratap Singh, a former BSP stalwart with considerable following among the schedule castes, to canvass for Bundela.
Though the BJP is confident of winning Khajuraho, the electoral arithmetic is somewhat complex. This Lok Sabha constituency has eight assembly seats, equally divided between the Congress and BJP.
Anand Agarwal, a journalist at the Hindi newspaper Nayi Duniya, says, "Irrespective of local or national issues the voting will be on caste lines."
Chief Minister Shivraj Singh Chauhan is very popular. A government servant confides, "Even if a local BJP leader doesn't like an official and demands his transfer, the CM will not oblige him unless he is convinced that the official is bad for that area."
Agarwal feels at least 50 percent of the BJP vote can be linked to Chauhan's bond with voters.
BJP leaders in Madhya Pradesh believe the party can win 27 out of the state's 29 Lok Sabha seats and that includes Khajuraho. The only two Congress leaders they admit they can't beat are Union ministers Jyotiraditya Scindia in Guna and Kamal Nath in Chhindwara. Their personal following can thwart anything the BJP throws at them.
The Congress campaign is barely visible. We had driven the previous day from Bhopal to Khajuraho and didn't find signs of the Congress anywhere.
Image: One of Khajuraho's famed temples