The Ramlila grounds in Pratapgarh is so filthy that it seems that the entire town's refuse has been dumped on it. Pigs amble around the place as people stream in to hear Rahul Gandhi [
Images
], whose speech has been scheduled for 2 pm in the afternoon on Tuesday, but that is another story.
Right now you want to escape from the merciless sun -- that almost seemed benign in the much cleaner villages of Amethi -- and get under the tented canopy the Congress party has set up for its candidate, Rajkumari Ratna Singh.
That is the first glaring contradiction in a party that is so proud it led the independence movement, stoutly declared that India [ Images ] was and remains a secular, egalitarian Republic, and whose former prime minister Indira Gandhi [ Images ] demolished the privy purses of the erstwhile royals littering the countryside without as much as a by-your-leave.
But Ratna Singh, the eldest of the seven daughters of Dinesh Singh, a Congress party stalwart who was foreign minister in the P V Narasimha Rao government (and died of a stroke, later), seems to have no such inhibitions. In fact, her political mentor Pramod Tiwari, a Congress MLA who has won from these parts an astounding seven times, openly proclaims the fact from the stage set up for Rahul Gandhi. "Vote for the Rani," he calls, "vote for her and avenge your defeat of last time."
Once again, Ratna Singh is in a contest with sitting MP Akshay Pratap Singh, alias Gopalji, of the Samajwadi Party, who is a cousin and political follower of Raghuraj Pratap Singh or Raja Bhaiyya, the well-known local feudal and former royal of the local Bhadri dynasty of nearby Kunda. Ratna's father was himself a descendant of another feudal line, of Kalakanker, which in the modern Indian constituency demarcation now falls within the neighbouring Kaushambi constituency.
But Pramod Tiwari is warming up to the occasion with especial glee, since Rahul Gandhi is on the stage right next to him. Here, then, is another strange inversion of the democratic tradition. Instead of Ratna Singh, the local Congress candidate from Pratapgarh, doing the honours with the visiting dignitaries from Delhi [ Images ] and being in charge of the event, Tiwari has totally overshadowed her. What is worse, she allows him to do so.
But in Pratapgarh, it is not these gender niceties that will rule the day. It is the complex caste combinations heavily layered with the power of the local mafiosi, or criminal-politicians, the 'goondas,' that will deliver the next MP to the Lok Sabha.
Raja Bhaiyya is one such well-known member of this grouping, as is Atiq Ahmed, formerly of the Samajwadi Party and who is now standing as a candidate of the Apna Dal, a newly formed political outfit. Ahmed, in fact, played a starring role in the well-known 'guesthouse incident', in the mid-1990s when Mayawati [ Images ] was the chief minister, and Ahmed, then in the SP, threatened her. In 2002, when Mayawati was chief minister again, she threw Raja Bhaiyya into jail under POTA (Prevention of Terrorism [ Images ] Act) along with Akshay Pratap Singh.
Stories of Raja Bhaiyya in the region are of course, legion, ranging from the fact that he used to feed poor village dissenters to friendly crocodiles he kept in his palace grounds. What is certainly true is that in the 2002 when he was in jail and Mayawati's government carried out a raid in his palace, a large cache of 57 rifles including a Chinese-built AK-56, a skeleton in the palace lake and large sums of unaccounted cash and jewellery were found.
Pratapgarh locals aver that Ratna Singh could get "terribly lucky" in the polls this time because Raja Bhaiyya's Kunda constituency has been moved out of Pratapgarh and into neighbouring Kaushambi, carrying his pro-Gopalji vote base with him. Moreover, the Brahmin-Thakur caste population, with about 300,000 votes, plus a portion of the 300,000 strong Muslim voters is likely to help her. "Because of the multi-cornered contest, she has a chance," says Abdul Rahim Khan. "Although Pratapgarh locals are much smarter today. The days when raja-maharajas could tell us how to vote are gone."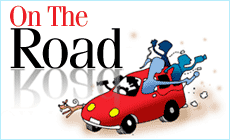 Khan admits that a significant section of the Muslim population will support Atiq Ahmed, notwithstanding his unsavoury past. Anvaar Khan, a local businessman, points out however that Raja Bhaiyya's influence over the area is still strong and Gopalji could keep his seat.
Anand Yadav, who studied in Pratapgarh and now works in Delhi, pointed out that in such an overtly feudal area, "It is a fight not between candidates and how good they are, or how much development the Congress party or anyone else promises to bring, but between goonda and goonda. The fact is, the Muslims will vote for Atiq Ahmed because he promises to protect them, Raja Bhaiyya and Gopalji are gods for the local Thakur Rajputs, and the local Congress strongman is Pramod Tiwari."
In such an openly feudal region, small wonder that Pratapgarh's literacy rate at 52 per cent is below the national average of 59 per cent, or that the female literacy rate is an abysmal 40 per cent. Besides the criminal-feudal-politician nexus, Pratapgarh is also famous for amla, a citrus fruit rich in Vitamin C.
Meanwhile, Rahul Gandhi's helicopter has landed on the filthy Ramlila 'maidan' creating a virtual dust storm, which temporarily hides the filth on the ground. Rahul makes his speech about the Congress party having several promises to keep in UP, and the crowd cheers lustily.
The helicopter departs and the people scramble out of the ground, barely avoiding the loitering pigs. Pratapgarh returns to its destiny. There is no dearth of messiahs here, but no one's asking the question yet: Who is going to clear up the mess?