A Ganesh Nadar discovers that politicians in Gwalior use a new medium to get their message across.
Gwalior is a city steeped in history. The road to the Raja Man Singh fort is steep and the sound and light show there is amazing and tells us about the romance, pain, music, intrigue and politics of this historical town.
Politics has invaded every realm here and FM radio is no different. So don't be surprised if you hear a demure Yashodhara Raje, BJP candidate from Gwalior, on your car radio telling you about what she has done for this city, for her constituency.
Welcome to political ads on FM radio. It is meant for a public that will not read newspapers, will not watch television but who is willing to indulge in political gupshup gossip all day.
Kailash Sharma, creative head, Suno Lemon, a local FM radio station, says, "In Mumbai you say 'hi' and 'bye' because you don't have time to chat. Here people have all the time in the world. They like to chat and discuss politics. They are not crazy about cricket. Here, glamour is politics. Political leaders are the stars. Thus we have given them politics. We are here to give them what they want."
Suno Lemon has a political education programme where they educate voters about the constituency, the history of the place, past leaders, what the government has done and what it needs to do. In the process the station has made politicians realise that this is one more way to reach voters.
So you hear one ad praising the Congress and another praising the BJP. The parties only provide briefs to the radio stations. The stations produces the ads.
Varsha (Kajol) Chabria is a radio jockey and also the creative head of Big FM, an Anil Dhirubhai Ambani Group company. "They give us a list of their achievement, ideas, proposals, objectives and promises," she says. "We have production houses in Delhi and Mumbai who make the promos."
She does make a distinction in declaring, "We will not accept an ad from a dubious candidate. We are a social service. We will not break people's trust. We are a part of society. Our social duty is to promote the truth. Our anthem is Suno sunao, life banao".
Big FM does not ask people to go and vote. The station feels that enough people are doing that and it doesn't like to imitate or follow other's lead.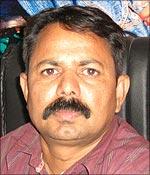 Aadesh Saxena, station head, My FM, right, another local station, says, "We have two types of listeners. The youth in the day time and the 40 plus in the late evening. We play soft music, old songs late so that they can relax after a hard day's work."
"Political parties are interested in both groups," he adds, "so they come to us."
Basanth Singhal, creative head, My FM, says, "We first think of a theme, then choose an old movie song, or patriotic song. The idea is to attract the audience. We sometime use a child's voice, a housewife's voice or the common man, it all depends on what the message is. We have had three farmers discussing the merits of the government. I have also made a negative ad where I showed an engineer/MBA working as a typist. The idea was to show that jobs were not available under the current government."
The political ads have made a difference to revenue. Suno Lemon says political ads have contributed 40 percent to current revenue. For Big FM it is as much as 70 percent. MY FM, on the other hand, says only 5 percent of its present revenue comes from political ads.
"The print media and the billboards made all the money," says My FM's Aadesh Saxena.
"We are allowed to sell ad space for ten minutes in an hour," he explains. "So we have to get revenue from that time-frame." Abhishek Dikshit, station head, Big FM, adds, "We pay a big amount to the government as a licensing fee, so our ad rates will be high. Political parties come to us only if they think it is value for money."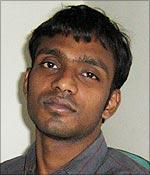 Kailash Sharma, left, says, "Now we are going to the political parties for ads. For the assembly elections, municipal elections, panchayat elections they will come to us. There, the number of candidates will be much higher. For local issues we are the only medium. The national or even state newspapers will not write about issues in a ward, or small village. We will highlight it."
The only local FM station that does not accept political advertising is the sarkari channel. The producer in charge at All India Radio says, "We do not accept political ads. From Wednesday we will be playing awareness promos asking people to vote."
Photographs: A Ganesh Nadar