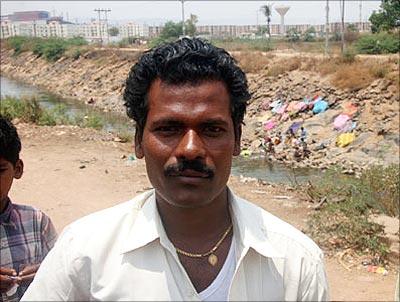 With elections to the 15th Lok Sabha upon us, rediff.com's reporters speak to voters across the country to find out what's on their mind.
Somesh, 41, a resident of Thoranagallu village in Bellary, Karnataka, stands on a small road and points towards a filthy tank in which children are playing happily.
"Would you even step into the water here," he asks us.
When queried about his expectations from the government, he says, "I have none. The issues that my village faces can easily be sorted out by the Member of the Legislative Assembly," he says in a practical manner.
Somesh doesn't have any major demands from the government. "Basic amenities are what I am asking for. My heart burns to see children growing up amidst filth. The culprits are the mines over here. Can you see that mine? All the waste is dumped into the water over here. They complete their job by getting rid of the waste and here we have to stew in the filth," says Somesh.
I have spoken to almost all the candidates who have come campaigning. "I started off in the year 2004 when Karnataka went to elections. I told the candidates about the problem of dumping waste into the water. Even the candidates contesting the Lok Sabha seats were told about the problem. During the assembly elections in 2007, I raised this issue," he recalls.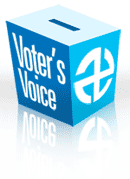 Not surprisingly, nothing has been done about these issues. "It has been a long time now. The elections have come again and all I can think of is the promises they made to me. The women in my house walk miles to get decent drinking water. Isn't it ironic? There is a huge stream in this village and we walk miles to get water," Somesh says.
But he refuses to give up. "I will make a promise. I will keep a photograph of the Member of Parliament and worship him like a God if he cleans up the water in our village," he says.
Text: Vicky Nanjappa | Photograph: Dominic Xavier